One-day workshop on "3D technologies for Cultural Heritage"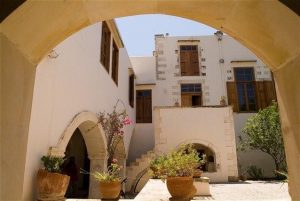 The Laboratory of Geophysical-Remote Sensing & Archaeoenvironment, IMS-FORTH, as a member of the Greek node of the European Research Infrastructure for Heritage Science, E-RIHS, will organize on Friday July 24th, 2020 in the premises of the Institute for Mediterranean Studies (Nik. Foka 130, Rethymno) the educational seminar "3D Technologies for Cultural Heritage". The purpose of the workshop is to provide practical experience for extracting 3D information from historical and new photographs and collecting data with a 3D terrestrial scanner.
The workshop is organized under the framework of the project "Cretan cultural landscapes over the time: highlighting the marine and mountainous environment of Mirabello -DIATOPO" funded by the Operational Program "Crete" 2014-2020, "Demonstration and experimental development projects that promote research and innovation in RIS3Crete".
When: Friday, July 24th, 2020 in Rethymno, Crete, Greece
More information
Nikos Papadopoulos
Scientific Responsible