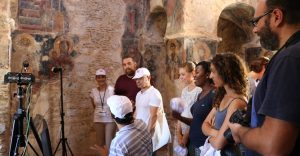 E-RIHS.gr, with the experience gained through the participation of its partners in numerous EU and National Projects but also from the successful organization of past summer schools such as OPTO-CH series and RESTECH, offers advanced education and training on the exploitation and applications of cutting-edge instruments and technologies which are employed in the partners' facilities.
Furthermore, the presence of invited experts and professionals from various fields of Heritage Science enhances the cross-disciplinarity of the courses and allows attendants to receive global knowledge about the study of Cultural Heritage.
---
03-09 July 2019, IESL-FORTH, Heraklion, Crete, Greece
The aim of the OPTO-CH series summer course is to introduce participants to applications of advanced laser-based technologies in Heritage  Science (HS). Lectures from experts on modern laser diagnostic, analytical techniques and cleaning methodologies is combined with practical demonstrations, hands-on sessions in the laboratory and on-site field tests.
The summer course concludes with field experiments on-site at a selected monument in Crete in order to demonstrate the applicability of the techniques in practice.
More info: https://opto-ch.iesl.forth.gr/
---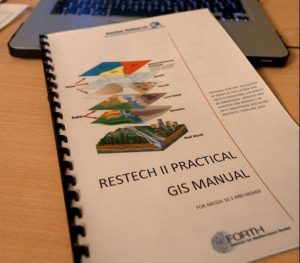 RESTeCH III,
GeoInformatics in the Domain of Archaeological Research Workshops
04-10 October 2018, IMS-FORTH, Rethymno, Crete, Greece
RESTeCH III workshop series is organized by the Laboratory of Geophysical-Satellite Remote Sensing & Archaeoenvironment (GeoSat ReSearch) under the framework of "KRIPIS – POLITEIA II: Culture-Technology: New technologies in research, study, documentation and accessibility in the information of items and monuments of cultural heritage (2014-2020)", that is financed by the Operational Program "Competitiveness, Entrepreneurship and Innovation" (EPAnEK) and is going to be held at the Institute for Mediterranean Studies (IMS) at Rethymno on October 2018. Please check the website for registration and more information.
More info: https://ims.forth.gr/restech2018
---
02-06 June 2018, IESL-FORTH, Heraklion, Crete, Greece
The aim of OPTO-CH 2018 summer course was two-fold:
a) to introduce participants to applications of advanced laser-based technologies in Cultural Heritage (CH) science, diagnostics and conservation.
b) to inform them on the latest developments of the H2020 EU project HERACLES research as regards the effective resilience of Heritage monuments against climate events.
Lectures from experts on modern laser diagnostic and analytical techniques, as well as on laser cleaning methodologies were combined with practical demonstrations and laboratory hands-on sessions.
More info: https://opto-ch.iesl.forth.gr/
---