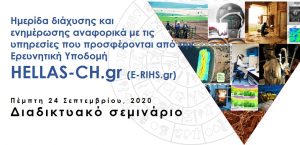 E-RIHS.gr organizes, on September 24, 2020, an on-line webinar as a part of the HELLAS-CH project of the "ELI Synergy – LASER LAB Europe, HIRER & IPERION-CH.gr".
This on-line webinar is part of the HELLAS-CH infrastructure of HELLAS-CH and is a planned action of the "Networking" Work Package of the above project in order to enhance the cooperation between the research institutes and the users and to make the IRERION-CH.gr infrastructure known to the public.
Please note that a 5 min registration is required and all presentations will be in Greek.
For further info and registration please follow the link: https://hellasch.iesl.forth.gr/?page_id=437 
Please find here the programs of the Dissemination Webinar  and  Ancient DNA  Webinar