Name of Facility: Laboratory of Geophysical – Satellite Remote Sensing and Archaeo-environment (GeoSat ReSearch Lab)

Type of Facility: Research and Service

Quality research & technologies in the service of Cultural Heritage: electrical resistivity tomography, computational modeling and simulation, virtual reality, digital photometry, terestrial laser scanning, ground penetrating radar
Short description:
Since 1996, the Laboratory of Geophysical – Satellite Remote Sensing & Archaeo-environment of the Institute for Mediterranean Studies (I.M.S.) / Foundation of Research & Technology (F.O.R.T.H.) has been active in the areas of Geophysical Prospection, Satellite Remote Sensing, Geographical Information Systems (GIS), 3D Reconstructions & VR and Archaeo-environment.
The Laboratory employs the most modern techniques for accurate field measurements and has a technical support (hardware and software) that meets the needs of processing, analyzing and mapping geophysical and satellite data.  It has more than 50 collaborations with universities and research institutes from Greece and abroad (Australia, Belgium, France, Italy, U.S.A., China, Cyprus, Sweden, Island, Lithuania, Hungary, Bulgaria, a.o).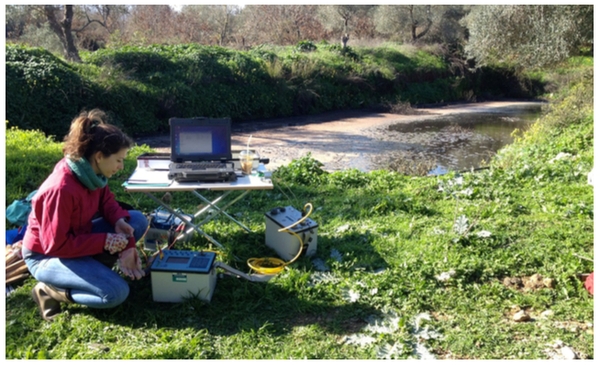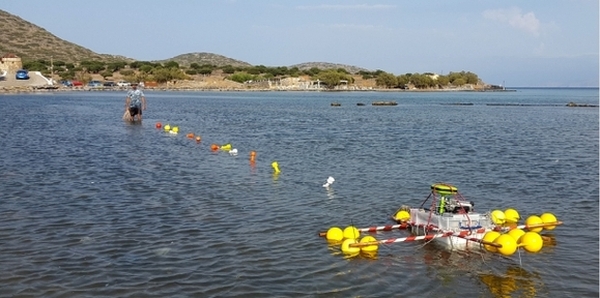 Among the various milestones of the Lab, we can include the following:
Participation in more than 80 large-scale national and international research programs (HORIZON2020, Siemens, Dragon3 European Space Agency, Aristeia/Excellence I and II, Thalis (General Secretary of Research and Technology), EU Marie Curie, USA-NSF, Stavros Niarchos, Research Promotion Foundation (CY) of the Republic of Cyprus, Wenner-Gren, EU Culture 2008-2013, Leverhulme Trust, University of Cyprus, LIFE, e-Content, INTERREG, ARCHIMED, ETPΑ, PΕΝΕD, ΕPΕΑΕΚ, INSTAP, NERC, Region of Crete, 3rd Community Support Framework and Cohesion Fund, Innovative actions ΕΤΠΑ, Bilateral research programs with Cyprus, China and Bulgaria. International Training workshops (RESTAR), Training through Erasmus, Wenner Gren Foundation, USA-NSF, Leonardo Da Vinci, a.o)
International collaborations with research and educational institutions from Greece, Australia, Belgium, Germany, Great Britain, France, Italy, Spain, U.S.A, Canada, China, Cyprus, Sweden, Iceland, Hungary, Bulgaria, Lithuania, S. Korea, a.o.
Scientific supervision and partnership of more than 210 projects of applied and basic research on geophysical prospection of archaeological sites in Greece, Cyprus, Egypt, Hungary, Italy, a.o.
More than 50 databases and 80 GIS/WEB_GIS applications for natural resources and cultural heritage.
More than 565 publications in international journals and Proceeding Volumes (200+), conferences (250+ oral and 115+ poster communications) and 130 technical reports.
Co-organization of CAA2002 and participation in the scientific and organizing committees of Int. conferences and symposia. Organization of the first Conference of CAA-GR in 2014.
Practical training of more than 1000 students from Greek and foreign universities
Research supervising of postgraduate and undergraduate dissertations (15 Post-Docs, 12 PhD, 15 MA/MSc, 13 BA) from national and European universities (Italy, Belgium, Cyprus, USA, Spain, Turkey, France, Australia, Tunis, China, Great Britain).
Bilateral and Technological Research Programs with Cyprus, Bulgaria and China.
Member of International organizations, such as ΑGILE (Association Geographic Information Laboratories Europe), ΕPOCH – Excellence in Processing Open Cultural Heritage, EARSEL – European Association of Remote Sensing Laboratories
Contribution in teaching graduate and undergraduate seminars at the Universities of Crete and Thessaloniki, the Technological Educational Institute of Crete and the University of Aegean.
Award of Distinction for the Digital Crete Project.
The Lab is involved in multiple and extensive geophysical mapping of archaeological sites through the use of various techniques spanning from single and multisensory magnetics, GPR, EM, ERT, RM, magnetic susceptibility, etc, 3D modelling of landscapes (e.g. Neolithic settlements of Hungary), reconstruction modelling (e.g. ancient theatres of Crete), aerial reconnaissance using conventional aircrafts or UAVs (Crete, Thessaly, a.o.), lidar scanning (e.g Malia), Web_GIS technologies (more than 80 applications available and accessible via the Web), photogrammetric applications (e.g. Malia, Alepotrypa, Koule Castle, a.o), Kinect applications (e.g. Malia), etc. Other activities of the Lab include small-depth sea and coastal geophysical survey of submerged archaeological sites, risk monitoring and assessment of olive oil mills disposal areas, modelling of risk assessment for archaeological sites, etc.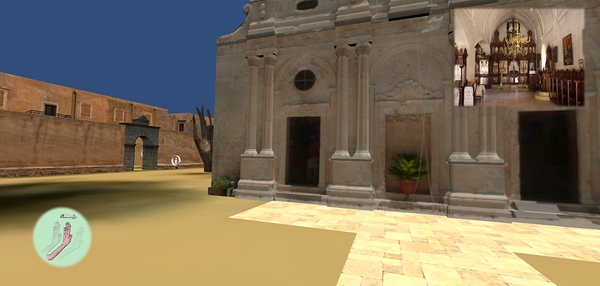 Researchers of the Lab are / were Members of the International Expert Group for the Russian Science Foundation, of the Evaluation Panel for the European Science Foundation, of the Evaluation Panel for Starting Grants of the European Research Council (ERC), of UISPP Commission 4, Vice-chair of the International Society for Archaeological Prospection (ISAP), Vice-President (of the European Section)  of the Archaeological Remote Sensing Consortium (A.R.S.C.), President of CAA_GR (Computer Applications in Archaeology – Greece), Research Associate of the Dept. of Anthropology, The Field Museum of Natural History of Chicago, Illinois, USA, etc.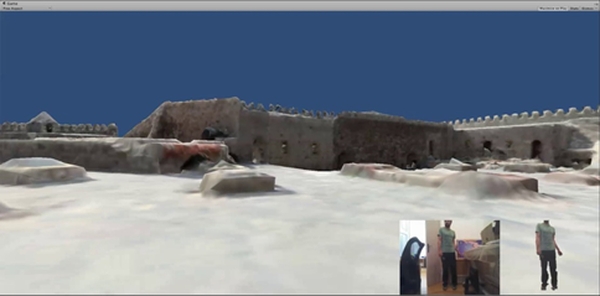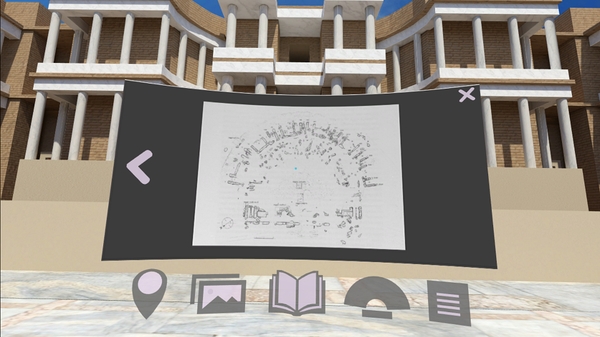 Contact Details:
Provider: Laboratory of Geophysical – Satellite Remote Sensing and Archaeo-environment (GeoSatReSearch)
Responsible: Apostolos Sarris, Researcher A' / Research Director, asaris@ims.forth.gr,
Contact persons: Apostolos Sarris (Researcher A' / Research Director, asaris@ret.forthnet.gr), Nikos Papadopoulos (Assοciate Researcher, nikos@ims.forth.gr)
Links to external resources:
Laboratory of Geophysical – Satellite Remote Sensing and Archaeo-environment